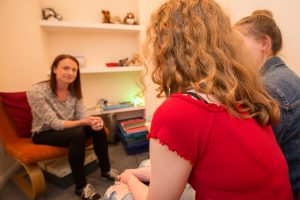 Off the Record Twickenham (OTR) takes your privacy very seriously. We have a legal responsibility to keep all the personal information that we hold about you safe. This page talks about how we handle information about you, why we need to do this, and your rights.
What personal information do we collect and why?
When you contact us (or a parent/other adult contacts us on your behalf) we'll ask for your name, date of birth, address and contact details – 'phone, text and/or email. We need this information so we can contact you and check that you are eligible to use the service.
Other information we may ask for:
We also ask for other information like the name of your GP surgery, your ethnicity and how you heard about us. We may also collect more sensitive information, for example about a health issue or a disability, which might help us tailor our support to your needs.
You don't have to provide this information, but it helps in a number of ways.
We use this data – which we anonymise so that no-one knows who you are, to:
provide statistical information for funders showing the need for our service,
to raise awareness about young people's emotional wellbeing in this borough,
to let people know what young people are telling us.
This data also helps us offer counselling and information that we know is relevant and accessible to young people living, studying or working in Richmond upon Thames, and it helps us improve what we offer in the future. We believe this is important – both to us and to you, and it gives us a legitimate use of the personal data you provide. You can find out more about this below
If you don't agree to this use of your data, you can ask us to explain it more fully before you decide whether to give the information.
How do we keep your personal information safe?
By taking every reasonable precaution to prevent the loss, misuse or unauthorised alteration of information you give us. For example:
We store information securely and control who has access to it
We don't share information unless we are legally required to do so (or you want us to)
We don't hold personal data longer than necessary – the information we hold about you on paper will usually be held for six years before it is shredded; this meets current legal requirements
Email is never a fully secure system, so we work to keep our systems protected, but we cannot guarantee this. However, once your message is received by us, it will be protected through our internal security measures.
Our website includes links to other sites which we don't own or manage. We do our best to keep these links up-to-date and safe but we can't control how other sites collect information or what they do with it. If you're not sure what data a website collects, you can look at its privacy notice.
If you send us your personal data through an online enquiry form on our website, or our client referral form, the data will be stored securely on our website, which has a standard SSL padlock
What about cookies?
Like most websites, OTR uses cookies. A cookie is a small amount of data that is sent to your computer or mobile phone browser from the website and is stored on your device. Our website uses Google Analytics cookies, which collect data to help us understand how visitors are using the website. Our cookies don't collect information that will identify you. You can use your browser settings to restrict or block cookies on any website. For more information see:  www.aboutcookies.org
Who do we share your personal information with?
Whenever you talk to us, it's confidential.  But sometimes we might need to tell someone. We will always aim to talk with you to decide who it would be helpful to tell. We may do this if:
You ask us to
We believe your life or someone else's life is in danger
You're being hurt by someone in a position of trust
You tell us that you're seriously harming another person
The only times we might tell somebody else, and share personal information about you without your permission, is if you tell us that you or someone else is in great danger or we are concerned for your welfare.  We will then talk to an appropriate person in confidence, and only pass on information about you that is relevant to the concern. You can find out more about the kinds of situations when we might share information about you without your consent in our Confidentiality Policy (link online).  When you start to receive counselling from OTR, we will ask you to agree to its terms.
We will never use your personal data to tell you about anything that doesn't relate to our counselling service or allow anyone outside OTR to have access to your data for a similar purpose.
OTR uses Mighty Text for reading and replying to text messages on the office computers. If you text us, message content and your phone number will be stored with this service. Your call history is automatically deleted from Mighty Text after 60 days.
How can I find out more? - our Data Protection Policy
You can talk to any member of our staff or counselling team if you have any concerns about the privacy and security of your personal data or contact our Manager, Deborah Kerpner, who is OTR's Data Protection Officer.  Email:  info@otrtwickenham.com
If you'd like to find out more about data protection and the ways in which OTR processes personal data, you can read our full Data Protection Policy below.   We'll let you know if we make any changes to this, or our Privacy Notice, through a post on our website, and when we talk to you or email you.
OTR GDPR Data Protection Policy – June 2018
Off The Record Twickenham
2 Church Street
TWICKENHAM
TW1 3NJ
Tel: 020 8744 1644
Information Commission's Office
Wycliffe House
Water Lane
WILMSLOW
Cheshire SK9 5AF
Tel: 0303 123 1113