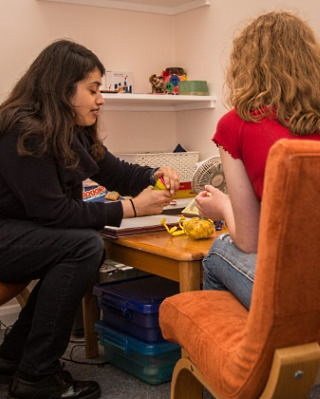 Our team of over 20 counsellors are vital to our service and we welcome new volunteers to join our dedicated team. It's a great opportunity to put your skills into practice, gain further experience and make a real difference to the lives of young people.
You'll be providing a regular time-slot for scheduled counselling sessions to young people. We support you by providing professional supervision and regular training.
Request an information pack
For information on how to join our team of counsellors, and the criteria we require, please contact us for an information pack by emailing info@otrtwickenham.com, or calling 020 8744 1644.
Volunteering as a counsellor at OTR : what our counsellors say
"Off the Record is such a brilliant charity and a really lovely team to be part of – by far my favourite placement!"
"I absolutely love working with the clients at OTR, I enjoy the work immensely, and I feel like I could never find a team as supportive or welcoming as OTR has been to me, so it's a very sad decision for me to have to leave."
"I have loved working at OTR and feel I grew professionally during my time there. Thank you for your support and your incredible insight and understanding. For me it was the most professional and supportive organisation that I have had the pleasure of being part of and very different from my other experiences."
"Thank you for all of your support on my placement – your warm welcome, sense of humour and calmness have all been much appreciated as I've found my feet and my identity as a counsellor."
"I love working with young people, they have a recklessness and lack of fear about them, I find it so refreshing, and having access to that is special. Sharing important moments with them and hearing them navigate their way through can be so uplifting. Seeing a change being made at a critical moment in their lives, and knowing they will take it through their life and maybe even pass it on to their own children. It is so special to experience this, and is what I love about working with young people."
"I have been a counsellor at OTR for over 6 years now. I trained in Humanistic Counselling and from the very beginning I felt the pull to work with young people. I believe that my own difficult experiences when young gave me a real understanding of the confusion and powerlessness that can characterise this age-group."
"Before I started working at Off The Record I had heard about their amazing reputation. The fact that many volunteer counsellors and staff stay here for many years says much about the attitude and values of the charity. I very much enjoy working for them as they demonstrate a genuine care for young people. It is a busy, full-on charity but they are still extremely supportive to work with."
" Managers are always available to discuss any issues and lend support. There is a sense that we are all in this together, working towards the goal of supporting young people. Off The Record is a very special place."